Everything We Know About Online Casinos in Pennsylvania
Once a player decides to try playing at a Pennsylvania online casino, it becomes evident that choosing the website is just as important as having luck on their side. But to pick a great service, one doesn't need luck if they have access to our extensive and detailed list of lucrative deals awaiting at online casinos in PA. We are an unbiased team of researchers and gaming enthusiasts that tasked ourselves with the question of what is the best casino in Pennsylvania and how one can find it and win big prizes. We won't answer it outright. Instead, we'll give you all the information we found during our research on each of the best PA online casinos so players might choose for themselves and get confident in their selection.
Published: Apr 29, 2022
Updated: Jul 28, 2022
Legal Questions Concerning Online Casinos in Pennsylvania
Great news – Pennsylvania online casinos are not just legal; they've been that way for five years already, since in October 2017, the governor Tom Wolf signed the act HB 271 into action. While casinos themselves were legalized back in 2004 with Pennsylvania Racehorse Development and Gaming Act, their online expansion had to wait for 13 years. Even more – two more years have passed since the signing of an act until the first online casinos were opened.
As of now, there are 12 legal, licensed, and regulated casinos in the state, and all of them have dedicated gambling services, mostly global brands, working with them online. They are controlled by the Pennsylvania Gaming Control Board, which sets policies, fees, and recommendations for responsible gaming.
How to Choose the Best Online Casino in PA: Our Guide
Pennsylvania online casinos are not created equal. Some have the best games, others present their services in a beautiful interface, and yet another casino may not have anything except for an amazing bonus offered to their users that is often enough to lure in a lot of people. We have made a list of our own criteria used to choose the best online casino sites in the Keystone State:
License

The most obvious recommendation for all PA online casinos – if it doesn't have a license, a casino partner, and requires a user to jump through hoops to play, then it isn't worth it. There is an abundance of various legal services to use, so players ought to check out the PA online casino list before playing: if the service they want to use isn't in it, then there is no means of government control, issuing a complaint or verifying their algorithms, and RNG isn't rigged.
Software

Quality software means quality PA online casino. The reason for that statement is simple: not only do casinos get licensed, but the software providers also do so, and real stars in the industry got all the documents proving their games are fair, regulated, and optimized for all devices.
Obviously, whatever you decide to name the best online casino in Pennsylvania, it uses software from famous developers. Keep an eye out for names such as Microgaming, NetEnt, Konami, Playtech, and Betsoft – games from these developers have great RNG, brilliant visual and sound design, and are usually a sign of a quality online casino.
Bonuses

The best way legal online casinos can get more users is by offering them a sweet bonus. It is usually issued on signup, but almost every online casino in PA gives the players additional small bonuses to keep them hooked and excited for potential opportunities. But users should be careful not to fall on lucrative promises of an outstanding amount of bonus money only to later find that wagering requirements are making the balance on their bonus account void.
Payment Methods

For online casinos in PA, these criteria are about quality, not quantity. We check out how many payment systems a particular gambling website supports, how popular and huge they are, and base our verdict on the balance between an abundance of ways to deposit and withdraw funds from an account and the popularity of accepted ways to do so.
Game Choice

Another "quality, not quantity" issue for most PA online casinos, although having a lot of games can't hurt! We'd advise players to check out the diversity of games an online casino in Pennsylvania offers: if the only thing on their portfolio is slots, it might be a great fit for most players, but not for all of them, and vice versa with table games. Keep in mind that games from big software developers we mentioned earlier tend to be great, so casinos working with them bear a mark of quality.
Mobile Compatibility

A great sign to identify the best PA online casino is the mobile applications it has. Most online casinos in PA offer a dedicated app to their users, others have mobile-friendly websites, but an application is a great way to tell a safe, licensed website from an offshore casino working in a gray area.
The Best Online Casinos in Pennsylvania: an Overview
With the points mentioned above, making a list of the best PA casinos online is relatively easy. Most of them have strong and weak points, but overall, thanks to the Pennsylvania Gaming Control Board, all PA online casinos in the state are of the above-average quality, have greatly coded mobile applications, huge libraries of gaming titles, and a fantastic variety of gambling activities.
Caesars Casino
Caesars online sportsbook is known throughout the United States just as well as Caesars Casino in Las Vegas – and in 2020, they brought their prime internet gambling site to Pennsylvania. To get treated like an emperor, one needs to sign up and make their first deposit – without any promo code, this casino matches the player's first transaction up to $1000 for 100%.
Partnered up with Harrah's Philadelphia, Caesars offers hundreds of different online slots, lots of table games, and, of course, live games making up the full casino experience, and with Caesar Rewards, any user of this online casino may get their trip to Harrah's – or to Caesars in Vegas.
BetMGM
One of the largest online gambling brands in the United States works with Hollywood Casino at Penn's National Race Course to be a contender for the title of the best online casino in PA – and they are quite successful. A great selection of live and digital games from the world's top software developers (they even have video poker) is matched by outstandingly beautiful applications for Android and iPhone.
BetMGM offer to match the first deposit player makes up to $1000 too, but they add a no-deposit bonus as a cherry on top. It's just $25, but they are free and have an x1 wagering requirement, and the winnings aren't eligible for withdrawal if a player doesn't make any deposits at all. All bonuses are applied on registration without any promo codes.
FanDuel Casino
Known for their most popular sportsbook in the USA, FanDuel extends their services to gaming – and they have an online casino in PA too. Since FanDuel entered the market in 2020, together with their brick-and-mortar partner, Valley Forge Casino, they have become highly successful, especially because they offer all of their services at once, and the casino is paired up with the sportsbook and DFS platform.
Instead of matching the player's first deposit, FanDuel online casino makes it rain during the first 24 hours after the registration – players simply can't lose (if they don't go over the limit of $1000). Well, they actually can, but all lost wagers are returned to the bonus account and may be played again – now hoping to win.
DraftKings
Another online betting giant dipping its toes in gambling by introducing yet another PA online casino is going over big: while having one of the most popular gaming websites in the entire Pennsylvania, they are also really generous with their bonus program. With a single account, users may bet on casino games and make sports betting wagers, and DraftKings online casino app is among the best in business.
Hollywood Casino and DraftKings match online player's first deposit up to $2000 for 100% (and the wagering requirement for most slots, keno, and sports betting is only x1!), and they also add an extra $50– no bonus promo code required, just registration and a deposit.
Unibet Casino
Unibet and Mohegan Sun Pocono were one of the earliest entries on Pennsylvania online casino stage, they came in 2019 and came to stay. With the simple interface for both desktop site and mobile app, Unibet online casino is actually preferred by some players who don't like flashy graphics that distract them from the main attraction – games. And there are hundreds of those – slots, table games, and live games are in abundance.
And a new player might actually pick between two bonuses during the registration. One is a deposit bonus where this online PA casino matches up to any deposits up to $500 (and adds $10 for free); another is a risk-free first bet when any first bet from $10 to $500 is made on the day of the registration is returned to a player's bonus account.
Hollywood
Hollywood casino isn't only working with DraftKings, and they have their own take on online casinos in Pennsylvania with… Hollywood! Yes, it has the same name, a great and super-responsive site, hundreds of games, including an abundance of online slots, multiple variations of blackjack, baccarat, and roulette, and, of course, live games with dealers from this casino.
Their bonus offer is pretty unique, too: with the promo code DOUBLETAKE, players get a 100% match on their first two deposits – up to $251 each and $502 in total. And they have a no-deposit bonus – $10 for signing up to use in any of their games.
Betway
This Pennsylvania online casino actually originates from PA – in partnership with Live! Casino Philadelphia they launched only recently. It makes this new online casino PA the freshest entry on our list, but they've made it with flying colors – an amazing gaming section, mobile app available at both application stores, and a bonus to rival all competitors guarantees its place in PA online casino list.
Speaking about bonuses – Betway offers to match any first deposit from $10 up to $1000 for a hundred percent. Sadly, the wagering requirement is amazingly high – 30x.
BetRivers
Yet another multimillion-dollar business with every bit of gambling activities attached, from sports betting to the casino, BetRivers is not just an online casino in Pennsylvania but unquestionably the best online casino of said brand. Partnering up with its own Rivers Casino, BetRivers has been operational since 2020 and has an outstanding gaming selection from successful developers like Konami, IGT, and NetEnt.
Their bonus of $250 may seem small compared to the rest of the casinos on our list, but consider that they have a 1x wagering requirement attached to it! To get a bonus, a user needs to top up their balance with a sum from $10 to $250, enter a promo code 250MATCH and get the matching amount on the bonus account.
Stars
Stars (or PokerStars) is a unique entry. The world's largest online poker platform made its way on the PA online casino scene back in 2019, but poker isn't the only thing they offer, as there's a whole online casino attached to it. To play in StarsCasino, one needs to download an app from a PokerStars casino site, and it's relevant not only for mobile devices but for the desktop client too.
Besides having a great selection of slots, table games, and apps for every device imaginable, StarsCasino also rewards all players who made at least a $1 bet with a $50 bonus.
Games: the Best Titles from Online Casinos in PA
We mentioned the most popular online casinos in PA above; now it's time to learn everything about games. In general, there are four major variations we can classify, so let's explain everything we know about these variations and recommend several titles as examples for each.
Online Slots

Each online casino guide says that slots are the most popular way to spend time at a fine gambling website, and they would be right. Slots have numerous advantages over other games on the list – there are thousands of available titles, they are fast, not costly, and can be played anywhere without thinking too much about strategy. But modern slots have even more advantages – outstanding progressive jackpots, phenomenal visuals, and addictive gameplay with graphics, sounds, and sometimes even a story behind it. The most popular slots in PA include Davinci Diamonds, Cleopatra, Fortune Coin, Gorilla Kingdom, and Divine Fortune.
Table Games

The classic everyone thinks about when hearing the word "casino" table games aren't as numerous at online casinos in Pennsylvania but are definitely favored by players who love to think and win by their luck and brains. These include blackjack, widely known worldwide, baccarat favored by many, and of course, the classics brought to the digital world – roulette. Premium Blackjack Pro, American Roulette, and Baccarat are the most popular variations players may find in Pennsylvania online casinos.
Live Games

Live games bring the online casinos in PA closer to the real ones, as users play with the real dealer in a real casino – but behind the screen. Usually, those games are set up like a video session and are basically the same table games but with higher stakes and a smart dealer playing against the user, not a computer. Players can find multiple variations of Live Blackjack, Live Baccarat, and Live Roulette on the gambling websites we mentioned earlier.
Video Poker

Only three PA casinos online have the online poker license – Borgata casino, BetMGM, and, of course, PokerStars with their StarsCasino. On their websites, players may enjoy a game of poker in various rules – from a classic Texas Hold'em to other, less popular and (sometimes) more sophisticated versions.
Best Bonuses from Online Casinos Pennsylvania
Most signup bonuses a player may find at Pennsylvania online casinos are deposit bonuses – the bigger, the better. PA online casino offering that kind of bonus promises to match the first deposit made by a player to their account – usually by 100%. These funds are then taken to a bonus account but are warned – the wagering requirement for bonus money is usually written in small print, meaning one often must spend much more to get their winnings when playing with a bonus. Keep in mind that a wagering requirement might stop a player from getting a bonus, as it expires an infinite number of days, and if a certain amount of money hasn't been played at the website, it goes away.
The no-deposit bonus is a bit simpler – once a player signs up to a website, they get a small amount of bonus money for a tryout of the service – just like a trial mode.
And another thing a user might expect to find at casinos online in PA is risk-free bets. Some offer a risk-free first day, others set a particular amount, but the idea is the same – funds that a player loses they get back – but on a bonus account.
PA Online Casinos Loyalty Programs
Most online casinos in Pennsylvania have a sort of loyalty program – Caesars Rewards for Caesars, BetMGM Rewards Points for BetMGM, Dynasty Rewards for DraftKings, and so on. Basically, the longer a user plays on a certain online website and the more money they spend on wagers, they collect more points that could be used for various rewards. Later, those could be exchanged for:
Additional bonus money for wagers
Merchandise from an online store on the website
Trips, tourism, and anything else at brick-and-mortar casinos working as partners to online gambling websites.
Banking Questions for Online Casinos in PA
The best legal online casinos work with big financial providers, like Visa, Mastercard, and PayPal, and if such a big online payment and credit service decides to work together with an online gambling service, it is usually a sign of trustworthiness. Still, it doesn't mean that working with small transactional services is a bad sign; websites like Skrill and Neteller are smaller compared to PayPal but work just as fast and sometimes allow casinos to present more interesting banking deals to players.
PA Online Casino Apps
Most of the gambling services we talk about have mobile applications, but only a selected few can boast phenomenal functionality, interface, and a great adaptation of the games. In our online casino guide, we are obliged to mention that most of the games in PA online casinos are HTML5-based, making them work in any browser just as well as in a dedicated app, yet having an optimized mobile application is a mark of a gaming site that respects both itself and its users.
Links for downloading an app are usually on the main page, so players are either going to see them instantly or after scrolling down a few lines.
Legal Online Casinos in PA vs Offshore Gambling Sites
Distinguishing a regulated PA online casino from an offshore site is really easy. There are only 12 legal online casinos in Pennsylvania; all of them have "Regulated by the Pennsylvania Gaming Control Board" on the website's footer; some even put it out in front, which means that their services were tried and tested by the USA gaming officials and deemed worthy.
Offshore sites usually have licenses issued by Curacao or Maltese gambling authorities – they are not all fakes and scams, per se, yet they work in a gray area and don't interact in any way with any of the USA legal gaming authorities, which means that if they are in fact offer rigged games or scam users out of their winnings there are almost no hope in punishing them and getting money back.
How to Get Help with an Internet Gambling Addiction
All legal and licensed online gambling websites in Pennsylvania have a "responsible gaming" section that gives answers to the most common questions associated with gambling addiction and solving it. By referring directly to the Pennsylvania Gaming Control Board at any casinos, offices, or licensed clinics helping with an addiction, a player knowing that they suffer from addiction might restrict their own access to any internet gambling services for a year, five years or indefinitely.
One may also call 1-800-GAMBLER if they suffer from a gambling addiction or know someone who does, or refer to this page provided by the Pennsylvania nonprofit organizations helping people be responsible for their gaming urges.
Online Casinos Pennsylvania: Pros & Cons
Pros
Legal, licensed, and convenient ways to have thrilling fun online
Easy to make a deposit or withdraw funds using popular payment services and credit cards
Huge choice of various games, slots, and live experiences
Various bonuses may be a key factor in choosing a site to play at
Responsible gaming is taken seriously, and players are encouraged to control themselves and get help if they need it
Cons
It's easy to get lost in an abundance of apps and services
Some of the best casinos don't have PayPal access; only alternatives, like Skrill and Neteller
Picking a bonus is hard, as wagering requirements aren't explained outright
FAQ
Are online casinos legally allowed in Pennsylvania?

Yes, they are; they've been legal in PA since 2017. Although there's a limited number of licensed and regulated official online casinos in PA, players need to watch out.
What is the legal gambling age in PA?

PA online gambling age is 21, just like everywhere else in the USA.
Do I need to pay fees at online casinos in PA?

Online gambling sites do not take any fees, yet some credit card providers, banks, and online payment services do take fees, so players have to check them out before making a transaction.
How to choose the best online casino in Pennsylvania?

Read all about their games, the signup bonus they offer, see if they have a dedicated mobile app, and most importantly, if they have a license from Pennsylvania Gaming Control Board.
How can I get a no deposit bonus in a PA online casino?

To get a no-deposit bonus, one needs to sign up to a casino offering such a promo, like BetMGM or Hollywood Casino.
Can I win real money at Pennsylvania online casinos?

Yes, anyone can; it all depends on luck. But you need to remember that gaming is a way of having fun, not making money.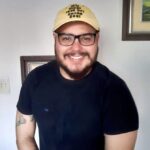 His primary focus is on the regulated US online casino and poker markets. Andy is a skilled recreational gambler for more than 11 years.